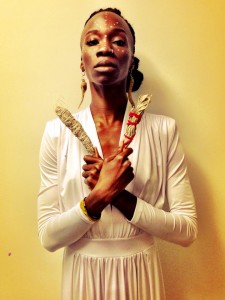 Peace light beams!! Here are the latest community projects that I have the honor to be a part of. Feel free to check out these projects and support in whatever ways you can. So much love to you!!!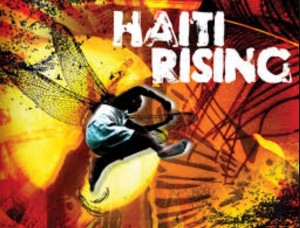 Ayiti Resurrect is a team of visionary artists, community builders, holistic healers, and organic farmers with bloodlines in Haiti and the African Diaspora, working in collaboration with a rural community in Leogane to support the healing and upliftment of the survivors of the January 12, 2010 earthquake in Haiti. This year, I had the honor of joining the 4th delegation, leading yoga and movement workshops, herbalism and women empowerment healing circles.
The 22 delegates teamed up with numerous healers, artists, farmers, and community organizers in Komye (Leogane, Haiti) guided by our hearts and a commitment to reciprocal healing, teaching, and learning
We implemented health and dental clinics, facilitated arts and sustainability workshops at the local school, led herbal medicine classes, women's empowerment circles, sexual health and reproductive justice dialogues, community workshops (including yoga, percussion, song, children's field games, sculpture, photography), and peer-to-peer artist skill shares. Together we also commemorated the 4th anniversary of the earthquake, produced a community concert and cultural celebration, built a solar mango dryer, and weeded, gave compost, and water to hundreds of tree seedlings planted last year. Read more and support this incredible work here!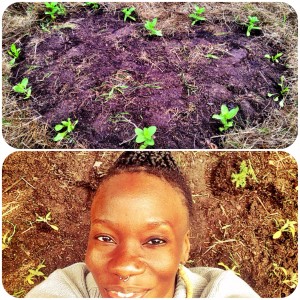 This year, I just got accepted into the Ecostation Bushwick Community Apprenticeship program. Ill be my focusing on youth POC leadership development, intergenerational "living, loving and learning" community education series, establishing yet another home for my "Herbs in the Hood" learning series, and building luscious creative intersections between Black Queerness, herbalism magik, community healing, urban agriculture, ritual and reproductive justice.
Rooted in social and environmental justice, EcoStation:NY empowers community members through innovative, sustainable urban agriculture projects that nurture the community. Farm-In-The-Sky will nearly double EcoStation's production space, and grow an estimated three tons of food annually. Key to the work of EcoStation is the integration of youth programing with all our projects. Fourteen youth will be employed to build and run Farm-In-The-Sky, through our Food Justice Team, a paid summer internship in its fourth year.
Farm-In-The-Sky is intrinsically tied to the people it will serve and is resolved to improve the overall well-being of the community. The health issues that plague Bushwick – obesity, diabetes, heart disease, hypertension – are all intertwined with diet. With Farm-In-The-Sky, we will increase access to healthy food in the low income neighborhood of Bushwick, and create opportunities for people – especially women, people of color and recent immigrants – to grow food for themselves. We base our project on the strengths we see in our community, not just the challenges.
Farm-In-The-Sky will be utilizing traditional and experimental, "DIY" growing techniques to grow food for the community. The site, atop a new building and community center in Bushwick named Mayday, will become a center for urban agriculture and food education. This building will also become home to EcoStation's moved headquarters, literally cementing EcoStation's place in the community it has proudly served for the past five years.

The Lil Raggamuffin Summer Camp is an International youth development organization that seeks to revitalize a coffee farming village in Jamaica by nurturing a community of youth that see themselves as CREATORS – people who find solutions to problems and turn their  passions into profit. This summer, ill be joining the faculty team, offering herbalism and movement workshop and leading a rites of passage program for young women Learn more and support HERE.