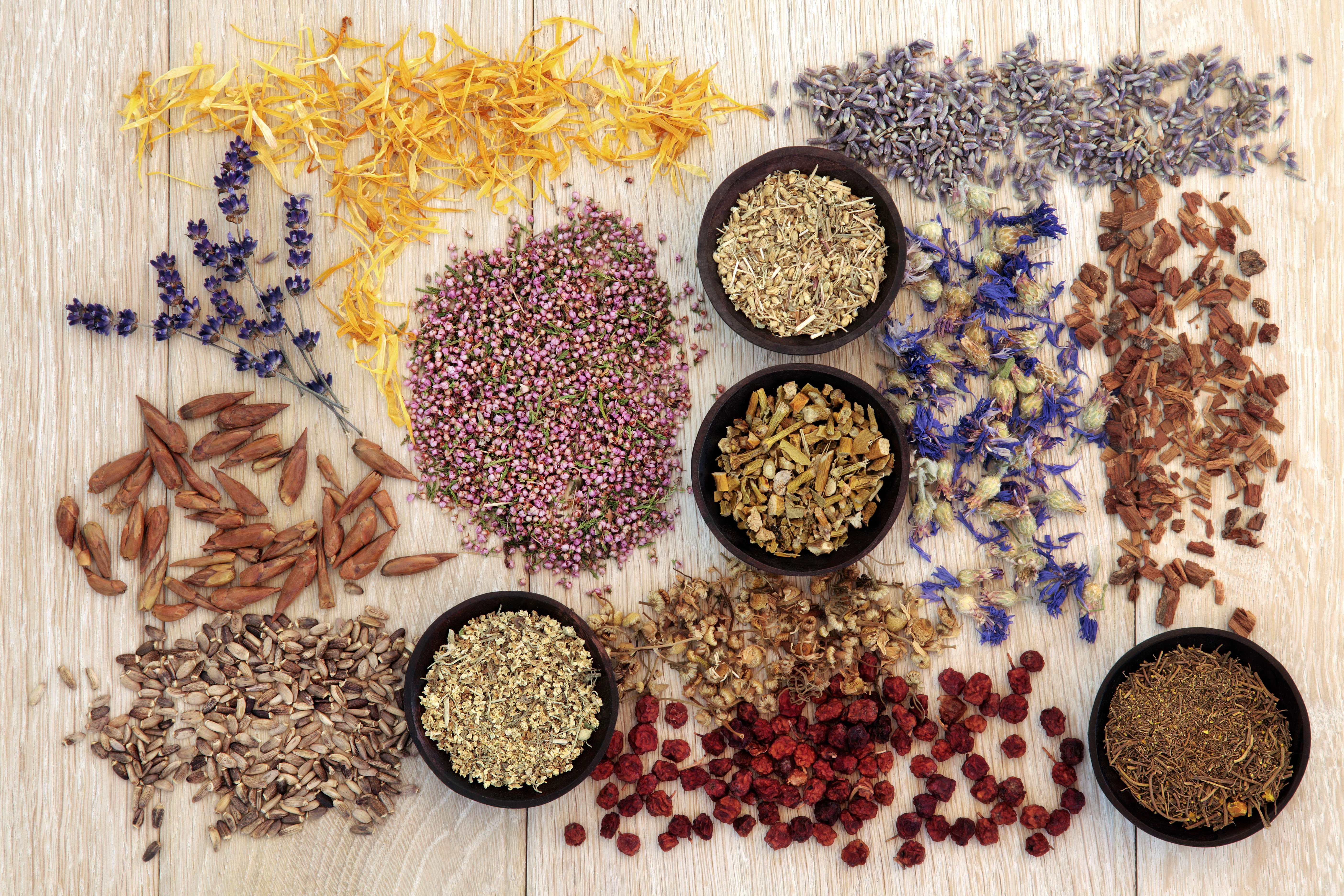 BeatBox Botanicals is a local, sliding-scale, love-centered and community-inspired, plant medicine and healing practice. Rooted in the traditions of our ancestors, we use compassion, your body's intuitive experience, and plant wisdom to handcraft medicine that restores and expands our body's abilities to heal and to love.
WE WORK WITH herbs and our bodies as tools for healing, reclaiming our individual and collective wisdom,and nurturing sustainable relationships with the Earth. We create customized medicinal herbal products based on what your body's needs and truths are. We offer individualized and community health consultations, skillshares, workshops. We support liberation and justice movements committed to healing.
WE SPECIALIZE IN medicine that expands the capacities of the heart and our innate abilities to Love. We believe that love is the most transformative force in the Universe and exists abundantly in all of us. Investing in our love practice allows us to live out our Divine purpose.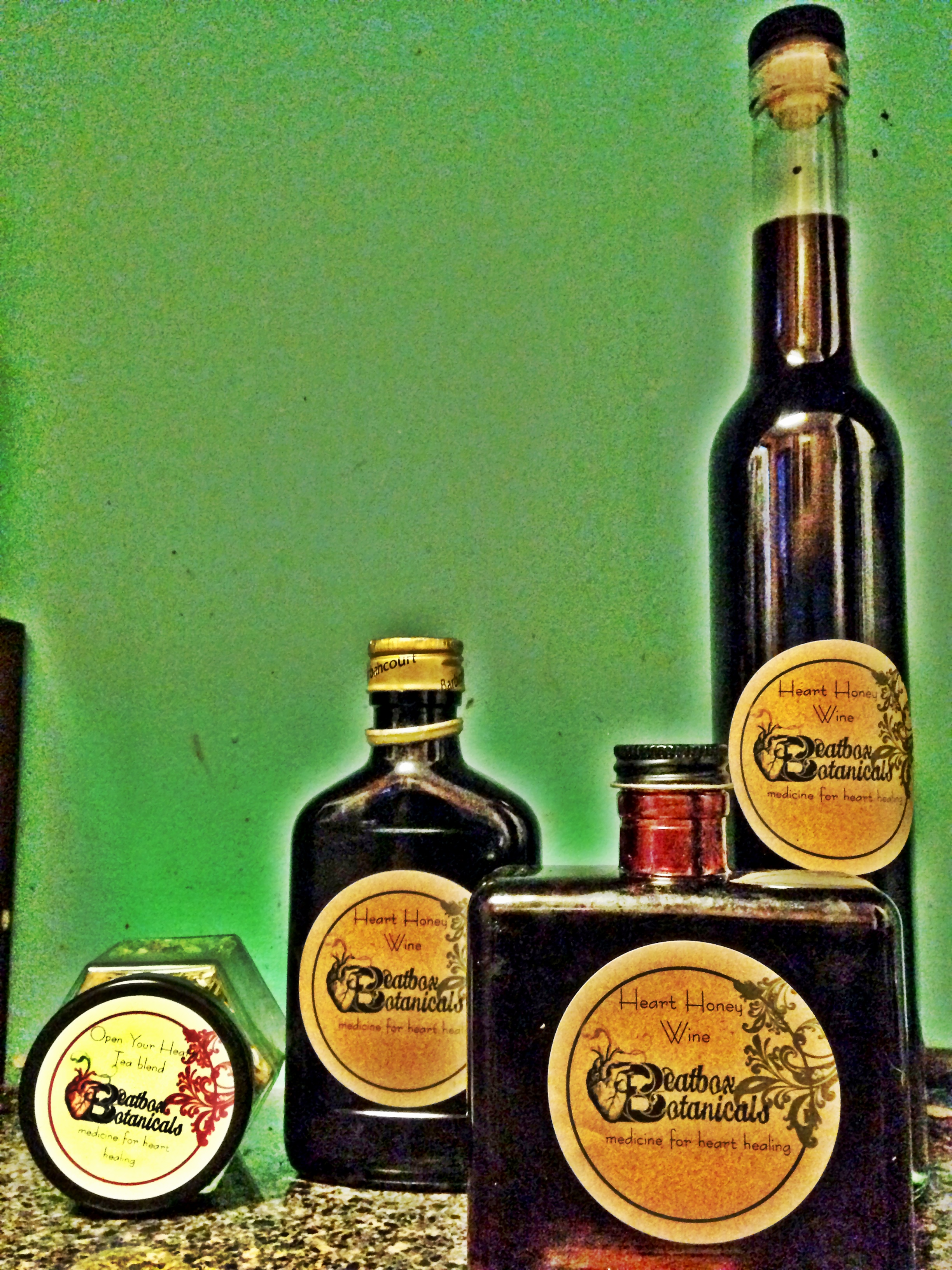 Heart Honey Wine
Lovingly handmade with rose petals, lavender, hawthorne berries, wild honey, ginger, damina, oatstraw, motherwort, violet flowers
Our signature heart tonic includes a generous and nutritive selection of heart nourishing herbs combined to amplify the physical, emotional and spiritual capacities of your heartscape. These powerhouse herbs normalize blood pressure, restore the heart's natural function and promote blood circulation throughout our vessels. High in vitamin B and C and rich in magnesium, calcium, zinc, and antioxidants, this deliciously rich, succulent wine pairs well with moments when you need to relax your guard and lean into the love that is You. It is also suited for moments when you desire to reinforce your sense of intuition and creatively build boundaries that invite that which makes your heart dance, and denies that which does not serve you.
Reflection questions? What insidious acts of recklessness creates tension in your heart? What dedicated acts of beauty create expansiveness in your heart? If you could taste freedom at the tip of your heart's tongue, what would it feel like?
Affirmation: I believe in my healing potential. The love that resides within me is infinite and indestructible. I transform everything I connect with. I use the power available to me to dance liberation out loud.
.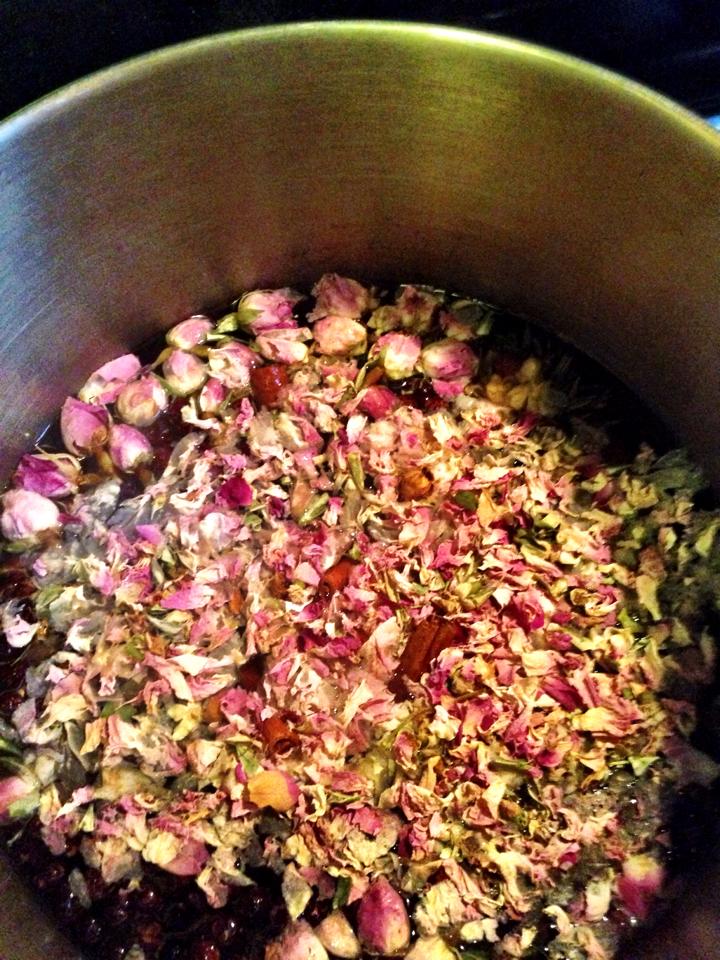 Heart Elixir
Lovingly handmade with rose petals, rose hips, rose buds, pomegranate seeds, hawthorne berries, brandy, orange blossom honey.
Stimulating and badass, this invigorating potion, welcomes you to deeply listen to the messages and wisdom signals of your body while protecting your heart from icky thangs like cholesterol and DNA-damaging free radicals. This nourishing elixir is ideal for moments when a balancing between heart and mind is needed. When you are ready to uncloak the false securities you have blanketed yourself with and stand firmly in your truths. Sip in moments when you want to stop your self-improvement projects and lean into being and loving yourself.
Reflection questions? What is the light that illuminates your purpose for living? What has quelled your possibilities of being your best self? Who and what moments have inspired your openness and vulnerability?
Affirmation: I am courageous in my truth. I am a miracle. I am not afraid of my mistakes.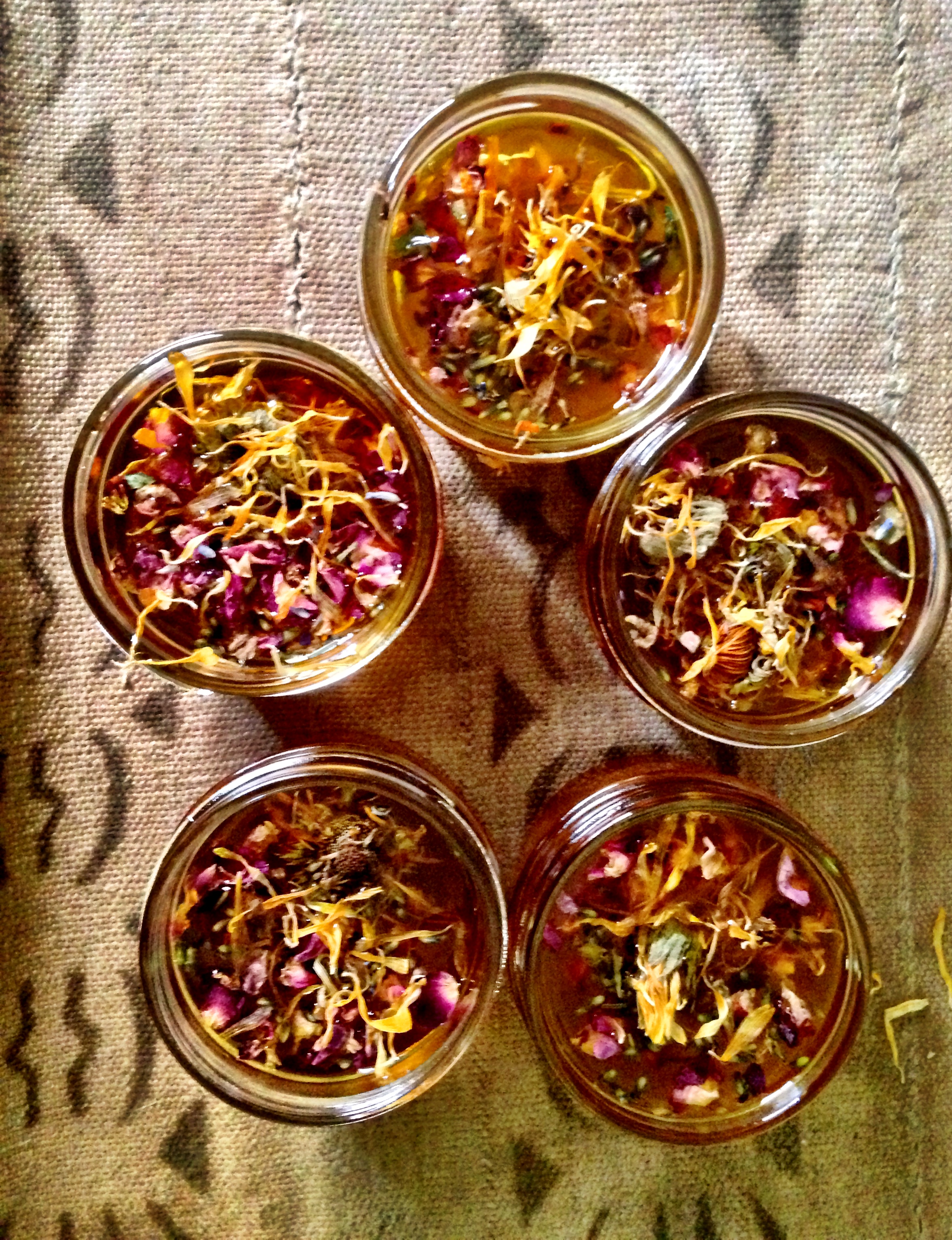 Love Balm
Lovingly handmade with Unrefined shea butter, olive oil, grapeseed oil, lavender essential oils, peppermint essential oils, cedar essential oil, frankincense essential oil, clove bud, rose petals, calendula, lavender flowers and chamomile.
This highly moisturizing balm is infused with herbal botanicals to help heal, restore, and replenish your luscious skin. With a strong base of olive oil and grapeseed oil, experience the natural love infused from the herbs that helps to nourish deep in your skin, leaving your body feeling moisturized and well taken care off. The yummy scents also invoke healing aromatic properties that have traditionally supported our bodies in healing from aches and pains, reducing the appearance of wrinkles and scars, awakening intuitive insight, reducing blood pressure and rebalancing your mental state back to calmness.
Reflection questions? What activities help to restore and replenish the lusciousness of your life? What daily practices nourish your Spirit's vitality?
Affirmation: I am worth being taken care of.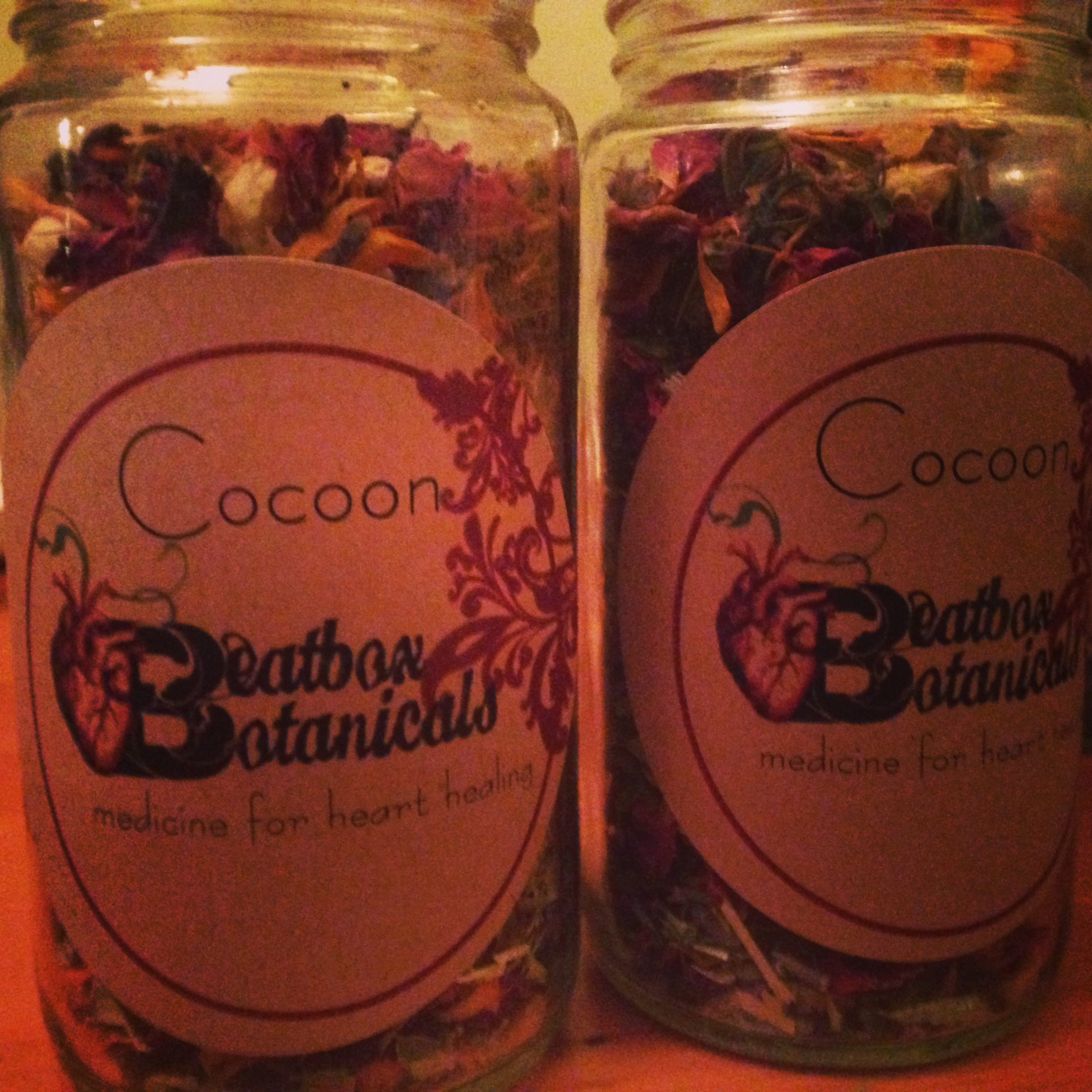 Cocoon
Lovingly handmade with lavender, jasmine essential oil, oatstraw, rose petals, calendula, lemon eucalyptus essential oil, peppermint, cinnamon.
This bath tea softens up  your go-go-go without skipping a beat. Ideal for moments when you need to pause, reconnect with your breath and be reminded of what home feels like. Particularly  in the moments when you have forgotten your greatest attributes because of how the world chooses to treat you. Come envelop your cells in a warm crescendo of skin-cleansing, heart-boosting, trauma-taming herbal remedies.  Ideal for moments when you need to induce calm and rejuvenation and heal from the disappointing traumatic murkiness of human dynamics. Great for when anger and sadness remains stored in your body, trapped in muscular tension and habitual behaviors.
Reflection questions? How do you support yourself in feeling loved? What is your definition of home? In what ways do others make you feel loved and taken care of?  
Affirmation: I am lovable just for being who I am. I compassionately accept myself and learn how to grow from my mistakes.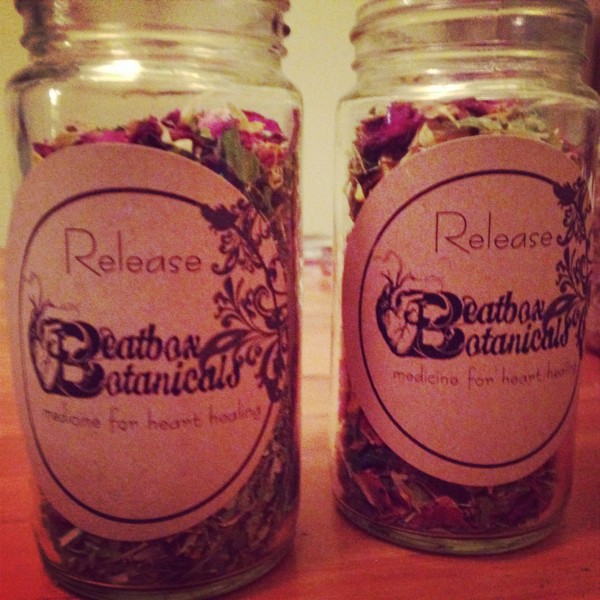 Release
Lovingly handmade with Motherwort, chamomile, lavender, lemon balm, rose petals, skull cap, cedar essential oil, juniper berries essential oil.
This gentle therapeutic blend works to facilitate the reversal of skin, muscle and Spirit damage for a noticeably brighter and luminous interior and exterior self. For all the moments when you need release from feeling powerless and hopeless and have convinced yourself that you are undeserving of your own love. This blend relieves a variety of physical symptoms including nervous tension, irritability, PMS, insomnia, anxiety and hyperactivity. Use this blend to create a small ritual of calm and relaxation before drifting off to dreamscape or in preparation for the day ahead.
Reflection questions? What are your silences that need to be broken? What in your life has caused your light to dim? What instigates your genius?
Affirmation: I find serenity in being compassionate with myself and others. I value and own all of my feelings without fear. I am not defined by my feelings. I release that which does not serve my best self. I am resilient in the face of atrocities.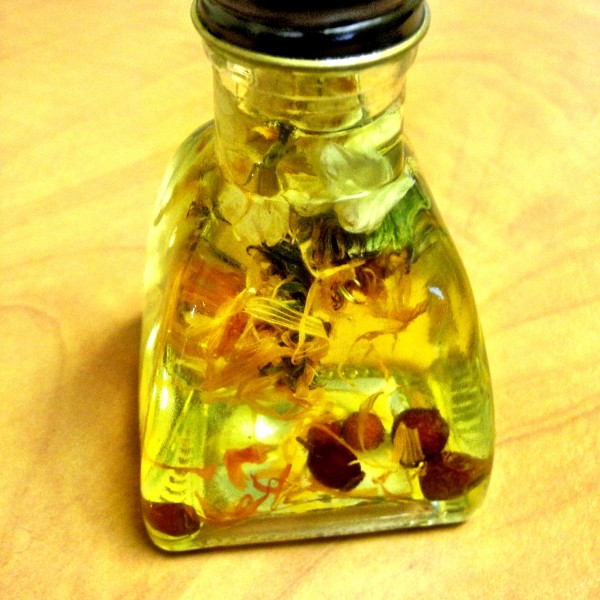 Heart Oil
Lovingly handmade with rose petals, safflower flowers, cedar essential oil, ginger root, jasmine essential oil, rose absolute essential oil, almond oil
A replenishing blend that works with your heart's natural love capacity while expanding its potential. Rub on your heart in moments when you or others have been condescending to your truth, when you've been alienated from your inner and outer environment, when you judge yourself unkindly. Traditionally, the plant herbs and oils in this nourishing blend have been used to support heart health by relieving stress and tension, improving circulation, quelling anxiety, and promoting a relaxed state of intuitive awareness. Discover a natural way to support yourself in feeling your feelings. Love up on yourself or someone else with 3-4 drops on your heart center or theirs.
Reflection questions? What inspires your heart's capacity to love? What fears do you cling unto around loving? In what ways do you practice receptivity in your daily life?
Affirmation: I am love. My happiness does not depend on what I do for others. My capacity to love and be loved is infinite.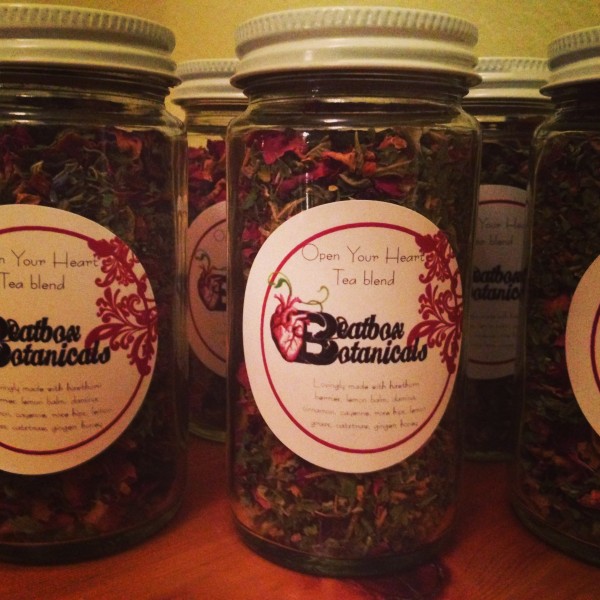 Open Your Heart Tea Blend
Lovingly made with hawthorn berries, lemon balm, damina, cinnamon, cayenne, rose hips, lemon grass, oatstraw, ginger, honey
This blend was thoughtfully created to inspire the creative genius of your Heart Chakra. Sip on this in moments when you need to cultivate empathy and compassion for yourself and when your body needs support in cultivating intuitive coping skills. See this as a sacred space to detox and compost out the daily dose of fuckery the world tries to shove in your hearts. Drink up!!
Reflection questions? In what ways do you cultivate compassion with yourself and your community? What coping skills have been passed down to you from your ancestors? What in your life can you detox and compost today?
Affirmation: I am a work in progress and that is fucking OK. My intuition is on point. I woke up with an infinitely magnanimous Heart Chakra.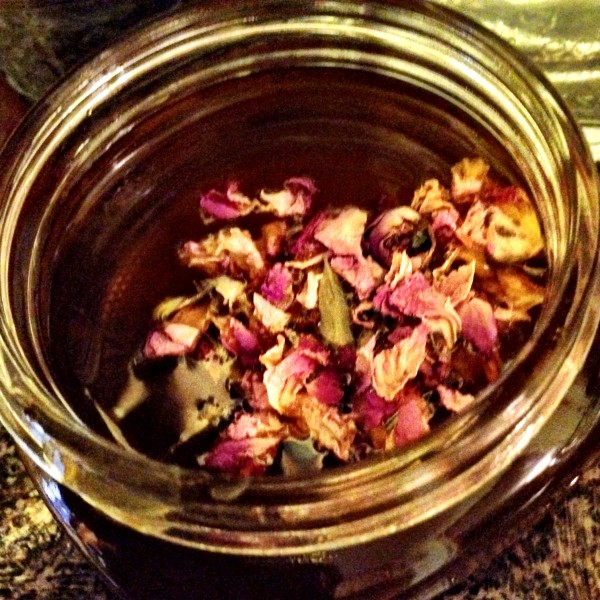 Trust Your Truth Salve
Lovingly hand made with coconut oil, beeswax, unrefined shea butter, juniper berry essential oil, cedar essential oil, hawthorn berries, rose petals, bergamot essential oil, peppermint essential oil.
This salve is loaded with rich oils and minerals to heal, soothe, and instigate your body's truths. Ideal on any ashy areas that needs a little extra TLC, this salve is  also suitable for moments when speaking your truth needs to be stimulated.
Reflection questions? When do you lie to yourself and others? What surfaces for you when you choose to be inauthentic with yourself? What is hidden your life that needs to be revealed?
Affirmation: My truth matters. I trust my truth.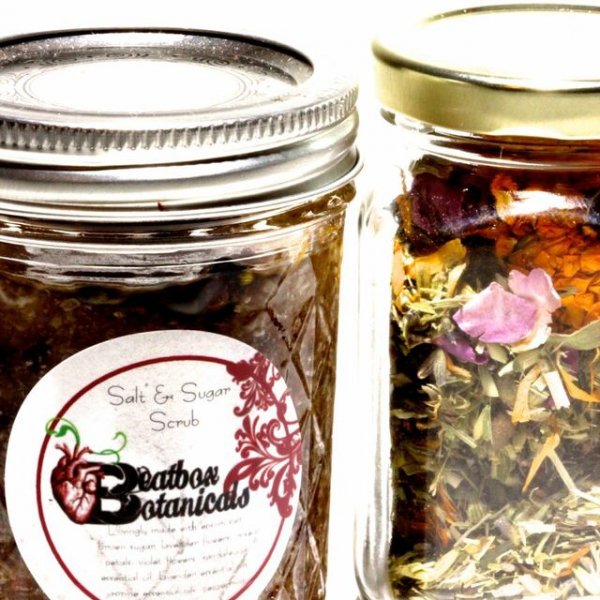 Salt and Sugar Scrub
Lovingly handmade with epsom salt, brown sugar, lavender flowers, rose petals, violet flowers, sandalwood essential oil, lavender essential oils, jasmine essential oils, peppermint essential oils.
This heart-centered and body-nourishing scrub bestows a delectable remedy to encourage your body's natural healing abilities. This invigorating and nutritive blend supports your body's cells in moving from breakdown to breakthrough. Antioxidant rich and all body-types friendly, this remedy will cleanse your body from impurities and dead skin cells, revealing a radiant, luxurious glow while getting your body's blood circulation together. Get ready for skin so soft you'll wanna touch yourself in all the ways you deserve.
Reflection questions? What are your favorite parts of your body that you appreciate being touched? What areas in your life deserve a little more sweetness?
Affirmation: I deserve to be loved luxuriously.
To place an order for an item on the love menu or to customize an order for your body's truths, fill out the contact form below.