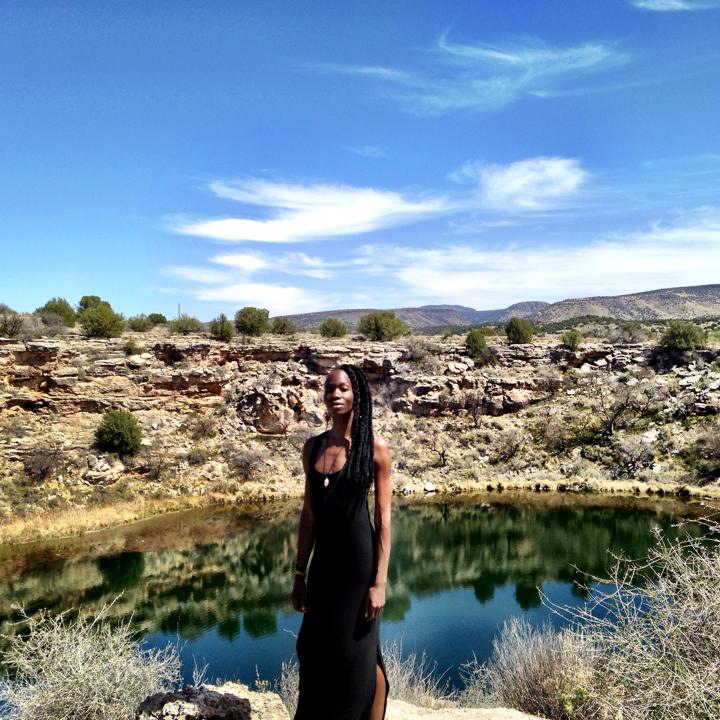 I am a lover in awe of the manifestation of infinite love around me.  A life liver grappling with and recognizing the faces of pain and trauma surrounding me and my communities. I see  pain and trauma as sites of inspiration, transformation and healing. With courage and complete surrender, I invite all that has challenged me to speak their truth and dance with me to wholeness, opening a clear path for love to fulfill its intention in me. Living a life fully expressed physically, emotionally and spiritually is my beautiful struggle and my act of resistance. It is my  manifestation of my divine purpose.
My daily ritual includes watering and nourishing my myriad of ever-evolving identities, included but not limited to Nigerian, womyn of color, educator, organizer, performance artist, Dibia, vegan, cuddler, euphoric being, queer, thrill nectar, mango obsessionist. I seek and create spaces where each of these identities can thrive in the midst of an imposing, toxic, monolithic oppressive world. I am committed to a world that can hold the essence of us all. I recognize that this is a tall order, a complex process, and one that is ongoing and ever-changing. I also celebrate that it is possible. I laugh often to connect with my deepest good and the greatest good in the universe. I am silly and quirky. Creation and ritual are sacred in my life and are timeless centers for healing, reflection and infinite possibilities. I walk with my ancestors and the youth in my life as guides, teachers and gatekeepers. I recognize we are all connected.
I am a believer. Faith is my magik wand. Gratitude is my magik carpet. Love is my magik.
To learn more about what I've done professionally and artistically, here is my professional and artistic BIO
Adaku Utah is an activist, healer, teacher and performance artist committed to nurturing authentic expression within people and  transformative and healing community spaces.  She is a proud and internationally recognized social justice co-consirator, committed love warrior and ever-evolving mover and shaker.
She is the founder of Soular bliss (www.soularbliss.com), a collective space to share, create, and discuss recipes, remedies, rituals and resources to healing ourselves and communities whole. She is also the founder of BeatBox Botanicals, a local sliding-scale, love-centered and community inspired, plant medicine and healing practice.
Adaku has worked as the Social Change Initiatives Coordinator at the Illinois Caucus for Adolescent Health (ICAH), where she led ICAH in planning and implementing youth-adult partnership practices and coordinated state-wide sex education school board organizing initiatives. She has also worked with  Depaul University at the Center for Interreligious Engagement to organize events that promote mutual understanding between individuals and communities of different religions and with the Women and Gender Studies department to co-chair planning of Creating Solidarity, a conference designed to explore coalition building and consciousness across race, class, gender, and sexuality.
She currently works with Project SAFE as a project facilitator, training and supporting youth and adults in educating and organizing around sexual health and reproductive justice issues. She is also on faculty with Sadie Nash Leadership Project , a powerful community of female leaders in NYC, designed to strengthen, empower and equip young women as agents of change in their lives and in the world and with SAFER, the only organization that fights sexual violence and rape culture by empowering student-led campaigns to reform college sexual assault polices.
She is a recent recipient of the 2014 Citizen Committee for New York Community Grant award,  2012 Sexuality Leadership Development Fellowship with the Africa Regional Sexuality Resource Centre in Lagos, Nigeria and is also a recent recipient of the Center for Whole Communities 2012 Whole Thinking Fellowship Award and a Featured Nominee for Girl Tank and MTV Voices 2012 10,000 Names in 100 Days 
She has been awarded the Chicago Foundation for Women's Jessica Eve Patt Award, spending a year working with the foundation to organize capacity building programs for grantees and coordinate executive director roundtables.
Adaku has facilitated and co-chaired planning and implementation of numerous workshops, curriculums and conferences, including  BE Change, Action Out Loud, The Revolution Starts With Me, Sustaining Ourselves; Sustaining Our Communities and Transformative Justice teach-in, Healing Justice Practice Space. She has also performed and presented at numerous conferences including, The Allied Media Conference,  Let's Talk About Sex, Education for Liberation, and From Abortion Rights to Social Justice.
Adaku has served as Board Member of the Women and Girls Collective Action Network, the Founding Steering committee member and board member of the Chicago Freedom School, founding member of Females United for Action, Advocates for Youth's Young Women of Color Leadership council member, New Leaders Networking Initiative member and Sistersong NYC member
Her social justice work is coupled with her inspiring performance art.  Her artistry is inspired by love, constructive rage, storytellers, acts of resistance, healing, nature, Nigeria and bridge building. She has performed at numerous venues nationally and internationally, including the Oprah Show, Jacob's Pillow, The American Dance Festival, Dance Theatre Workshop, Harlem Stage, FuseBox Festival, APAP conference, Arsht Center, Taste of Chicago and shared the stage with the likes of John Legend, Black Eyed Peas, Oprah, Ne-yo, Meshell Ndegeocello. She currently dances and teaches with award winning, critically acclaimed DecaDance Theatre…and collaborates with Faye Driscoll's Modern Dance Group, Organic Magnetics, Motion Sickness, Karma Mayet's Indigo Blue's Opera and Toshi Reagon.
In 2010 she premiered her first solo piece, Bringing Back Home, an exploration of love within her relationship with her mother as an out queer Nigerian woman. She is currently expanding this work and plans to debut it 2012 in her hometown, Nigeria coupled with dialogues with mothers and daughters around sexuality, sexual health, motherhood and love.
Adaku is committed to holding intentional space for people to authentically express  and heal themselves. She is currently training to be a wholistic herbalist and is a certified Re-evaluation counselor, Rape Victim Crisis Counselor, and HIV/AIDS testing counselor. She has created and facilitated workshops around vision mapping, life mapping, dance as prayer, hip hop yoga, effective youth adult partnership, sex positive practices, reproductive justice, self care/love practices, intentional self and community care, meditative movement.
Her biggest goal in life is to live love in its fullest expression. She is a constant work in progress, striving for the highest good in herself and in others.
For workshop and performance inquiries, contact soularbliss@gmail.com
To learn about upcoming performances, click here