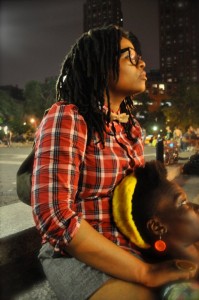 I have some of the most incredible friends in the world!!! The kind of friends you can call in the middle of the night to vent, the kind of friends who call you just to say they are thinking of you and they love you, the kind of friends who sooo generously and soo lovingly give of themselves, the kind of friends who write love letters, the kind of friends who call me out on my shit, the kind of friends who do silly dances with you, ,the kind of friends who laugh from the belly of their soul, the kind of friends that allow me to just BE!! all of who I am without judgement…sweet, compassionate, real, raw, life living, love bursting, healing, nurturing, powerful, inspiring friends.
My friends are incredible blessings and without them I doubt I would be alive. If I could sing their praises every moment of the day I would because of how ridiculously amazing they are to me and the rest of the world. And if I could spend more time with them I would do that too. The craziness and busyness of our lives doesn't always allow us to spend as much time with each other as we would like. So when our schedule opens up, one of the things we like to do is plan friendship dates with each other, carved out space and time to be with one another to do something hella fun, creative and/or healing.
I recently had the most amazing friendship date with my dear dear friend Al aka Alsky. On our date, we decided to catch up over a homemade meal, tackling something we've both never made before, sweet potato veggie burgers with avocado!!!. We found the recipe on The Healthy Happy Life. To add even more savouryness to the dish, we decided to throw in some tofu, spiced cinnamon honey mustard coconut tofu to be exact!!!. Here is the recipe. Now be warned!!! The recipe is not quick and super cheap like the ones we've previously posted but I guarantee if you make it with a dear friend, it will be fun and MOST definitely amazingly salaciously delicious!!
Thank you Al for being my friend. I LOVE YOOOU!!! and all the adventures that we carve together, all the ways we so tenderly and courageously take care of each other and have each other's back. I adore thee!!! You da bombdiggitysofreshglittersoulstar!!!
EASY SWEET POTATO BURGERS! WITH AVOCADO RECIPE from The Healthy Happy Life 
makes 7-8 large patties
2 cans cannellini white beans, drained
1 large sweet potato, baked/peeled/mashed (about 2 cups)
2 Tbsp tahini
2 tsp maple or agave syrup
1 tsp lemon pepper seasoning OR Cajun seasoning (or another fave spice!)
1/4 cup wheat flour
optional: additional seasoning (whatever you have on hand – I used a few dashes cayenne, black pepper and a scoop of nutritional yeast)
salt to taste if needed
plentiful Panko crumbssafflower oil for pan
AL and ADAKU additions
1 block of tofu sliced into thin big squares
1 teaspoon of honey
1/2 teaspoon of lemon pepper seasoning
1/2 teaspoon of cinnamon
1 teaspoon of flax oil
1 tablespoon of honey mustard dressing
1/2 teaspoon of garlic powder
burgers: avocado, Dijon mustard, grain buns, romaine, onion, olive oil, pepper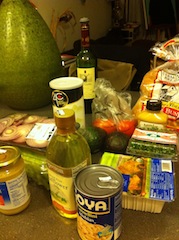 Directions:
Bake sweet potato. Peel, place in large mixing bowl.
Add drained beans to mixing bowl. Mash beans and potato together.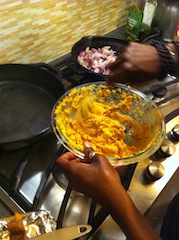 Mash in seasoning, flour and any additional seasoning. Your mixture will be quite soft and moist. But you should be able to form a patty. Add more flour or a scoop of breadcrumbs – or dry rice to thicken the mixture if needed.
Heat 1 Tbsp safflower oil in a pan over high heat.
Form a patty from mixture and coat in Panko crumbs. Thick coating. Then drop the patty in the pan. Repeat until the pan is filled. Cook until browned on both sides. You could also bake. If baking, use less Panko.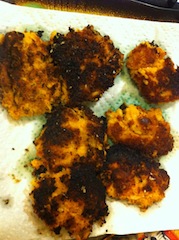 Transfer cooked patties to paper towel. Cool for a few minutes.
Serve on toasted bun with lotsa toppings.
AL AND ADAKU TWIST
Add broccoli sprouts in toppings. Gives it a lil bit of a crunch!!!
Cut tofu into thin big square pieces. Marinate tofu with honey, lemon pepper spice, cayenne pepper, cinnamon, garlic, flax oil, coconut oil and honey mustard dressing. Let sit in refrigerator for half hour to 1 hour.
Add coconut oil to frying pan. Fry tofu slices until golden brown.
Note: yes this patty does fall kind of apart as you eat it. But that is OK because it tastes yummy.
Share some of your friendship date food recipes with us!!!