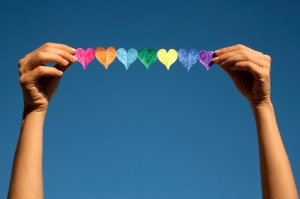 In honor of love day, which is today and every single day, here is a growing list of ways to show love to yourself and your community. Thank you to everyone that contributed to this glowing list. I love you so incredibly much! You are what makes love alive and brilliantly visible!!!
SELF LOVE
Tell yourself the truth about who you are
Create a vision map that creatively showcases how you intentionally want to live your life
Write your own definition of what love means to you and put it into practice
Make a list of your personal boundaries within relationships. Identify what a healthy relationship means to you
MASTURBATE!! *
Get enough sleep. Each night get up to 6-8 hours of sleep so that your body can recover from the present day and rejuvenate for the day ahead.
Dance around naked in your room to your favorite soundtrack
Write a love letter to yourself about what you appreciate about YOU physically,  emotionally and spiritually
Create a workshop about something you are passionate about and share it with friends
Practice actively listening to yourself and your needs
Get tested for STDS
Improve your facilitation skills
Bask in nature
Take a healing bath
Cut your spending and save more
Un-procrastinate!!
Find the elusive work-life balance
Pray for the person on your mind right now
BREATHE
Honor your body with beautiful, delicious and healthy foods
Put fear aside and trust in the universe
Trust in your ability to do good
RECYCLE
Participate in a sweat lodge
Make a gratitude list of people who love you
Speak up for yourself
Attend a free 5 day activist retreat
Embrace your spirit totem
Write an ode to your future self
Participate in community acupuncture
Be still
Be compassionate with yourself on your journey
Dance! Dance! Dance!, whether its taking a dance class or going out dancing
Join a laughter yoga class
Create a blog about something you are passionate about
Clean out your homespace and workspace. Reduce clutter
Allow yourself to grieve
Quit your job if it is not serving you and in line with your purpose
Make a dreamcatcher
Celebrate your successes
Make love balms for yourself and your loved ones
Do a letting go ritual to release all that does not serve you
Learn a new hobby
Practice saying "NO" 
Love yourself unconditionally
Live the life you envision for yourself with intention, courage and surrender
Go on a word fast. Spend a day in silence and in deep prayer and reflection
Embrace the full spectrum of who you are and your ever-evolving journey
Release an old habit and welcome in a healthy habit
Spend time alone
Say i love you to someone you love as a daily practice
Create a gratitude list of all the things in your life you are grateful for
Allow yourself to hear someone when they tell you they love you
Go to feminist sex shops
Look at images of bodies that reflect your  own at least once a day, naked and clothed!
Take your sweet time putting lotion/oil on, dancing, reading, braiding my hair
Schedule a friendship date with one of your dear friends
Create healthy boundaries in your relationships
Climb a tree
COMMUNITY LOVE
Define what community means to you with communities you identify with and put it into practice with integrity and care
Honor your ancestors
Host a progressive dinner with your community
Start a safe space program
Build an earthship
Build a communal vision map
Be a fierce LGBTQ ally
Support your community in getting tested
Be a fierce ally as someone with privilege
Support a survivor of rape
RECYCLE
Support anti-oppression practices and principles in your community
Start a community garden
Do a new moon celebration ritual ceremony
Support a loved one from transitioning out of an unhealthy relationship
Tell your community how much you love them
Bike together
Write a gratitude letter to your community
Create a communal lending library
Start or support your local CSA (Community supported Agriculture)
Host a community skillshare
Send handwritten gratitude love letters to folks in your community
Live a life you envision in community
LAUGH
Celebrate your successes
Participate in grieving rituals
Support youth in getting access to comprehensive information and resources
Support your local farmers
Be honest with each other
Love each other
Create intentional spaces where community resources that support personal and collective well-being can be shared
Reflect on  your relationships with each other, what has worked, what needs more work
Deepen relationships with people you only know on a surface level
Read bed time stories to each other
Support a recovering addict
Start and/or support an organizing campaign to create systemic change in your community
Make community events accessible to all people. Create safe spaces that allow the fullest expression of age, gender, race, sexual orientation, body expression, political belief, spirituality, economic status, relationships status..etc
HUGS!!
Practice healthy polyamorous relationships
LISTEN!!!
Ask the best ways to support each other
Build a communal bank account
Say "NO" to things that do not encourage communal growth
Build a communal tree house
Play and take care of each other's children
Suspend judgement of yourself and others
Be honest about your capacity before you say YES
Create a community podcast about something you all are passionate about
Practice consensus building processes
Learn methods of nonviolent protest and persuasion 
Support men in taking action around sexual harassment 
Teach youth how to practice safer sex
Take your community out on a date
Add to the list!!! what are ways that you take care of yourself and your communities?