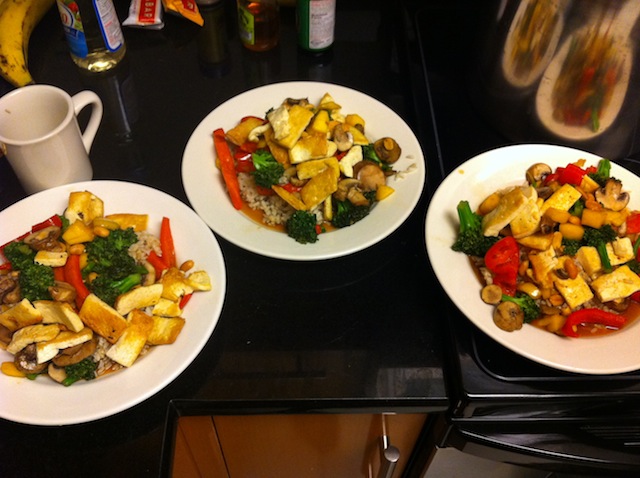 Here is another fast, healthy, affordable and absolutely delicious recipe made by  Jen, Nadia and I, the ladies of Decadance Theatre, on tour in Miami this past week. Ingredients cost $10 and again fed 3 hungry dancers. To read the first post of this series, click here Enjoy!!!
Rainbow Stir-Fry
Ingredients 
 2 heads of broccoli, cut into florets: Broccoli is an incredible source of vitamin C and a great fighter against cold symptoms
1 large mango, pitted, peeled, thinly sliced: Mangoes have a plethora of benefits. They are great for improving digestion, treating acne, and lowering cholesterol
1 large red pepper, chopped: These antioxidant rich veggies are bursting with vitamin A, C & K and support the body's immune system development
3/4 pound of tofu, sliced: Tofu is an excellent source of protein and iron
3 tablespoons of soy sauce : Soy sauce is rich in vitamins and minerals. Tryptophan, an essential amino acid in soy sauce is wonderful at stabilizing moods and promoting healthy sleep
3 tablespoons of honey: Honey is a natural remedy for ailments such as hangovers, sore throats and sleeplessness. It is also great at cleansing and improving the digestive system
3/4 pound of shitake mushrooms, sliced: Shitake mushrooms are rich in iron and are incredibly supportive with the immune system and in reducing cholesterol
2 cups of brown rice, cooked 
2 tablespoons of vegetable oil 
small red onion, chopped 
1 clove of garlic, chopped
1/2 cup of roasted peanuts 
 Directions 
In a large pan, sauté onions and garlic for 1 minute on medium heat. Add tofu and cook until golden brown. Reduce heat to low and add broccoli, red peppers and mushrooms and sauté for 5 mins. Add soy sauce and honey and stir until sauce thickens. Add peanuts and stir for 1 minute. Serve over brown rice.
what are some of your favorite healthy, yummy, affordable recipes? Share with us