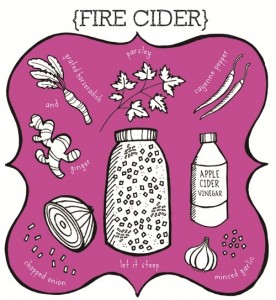 Infinite gratitude to zRocKa for sharing this amazing recipe with our community. Share your remedy, ritual, recipe and/or resource. Fill our water well. 
I was invited to a Fire Cider making party. It was a blast to be surrounded by beautiful people, blissful energy, fresh herbs/spices, and the desire to remain well through the winter season.
What is it? "Essentially Fire Cider is kick ass – home made – flu and cold busting medicine – plants and herbs extracted in apple cider vinegar that boosts your immune system and tastes amazing."-K.Shaps
What You Need: (amounts will depend on how much you are making, below is just a guideline)
½ cup grated fresh ginger
1/4-1/2 cup grated fresh horseradish
1/8 cup chopped garlic 1 tsp cayenne powder (or a pleasing amount of your choice)
1 qt. Apple cider vinegar 1/2 hand full of Fresh Rose Hip (optional, you can find a a local farmers market or health food store)
 2-4 pieces of Astragalus Root (optional)
Mason Jars with lids Note: It's not advisable when handling these ingredients to touch your eyes or other mucous membranes. IT WILL BURN!
To make:
1. Combine ginger, horseradish, garlic, rose hip, astragalus root, and cayenne in a one-quart glass jar with a non-metallic lid.
2.Fill the jar to within an inch of the top with apple cider vinegar, immersing all the ingredients, and then cap.
3.Allow this mixture to steep at room temperature for anywhere between 2 and 6 weeks. You now have a batch of homemade Kick Ass, keep you well, Fire Cider. Since it contains vinegar, which is a natural preservative, it does not need refrigeration. It is important to point out that the above recipe is not carved in stone, as there are many popular variations. Ask your elders what else they might add or if they have any suggestions over all. If your spirit moves you, try adding some extra medicinal herbs like echinacea, burdock, turmeric or oregano to the ingredient list. There is no wrong way to make Fire Cider.
Now the moment you have been waiting for, the taste test. I taste mine after i initially make it and then again after it has set for a few week.s Many people simply ingest spoonfuls undiluted. If you have a more sensitive palate, try adding a little honey.
Fire Cider is a tasty addition to vegetables, salads, meats, and in the winter, add a teaspoon to a bowl of soup. It adds a great dimension to the flavor, and the apple cider vinegar allows the minerals to be more easily absorbed by the body. However, to use it as a wellness tool, it is suggested to take a daily does. The daily dosage depends on individual preference and taste (it's called Fire Cider for a reason) and can vary from a teaspoon a day to an ounce a day. Making and using Fire Cider is a great healing tool. It is a great example of taking control of ones health.
Have a Fire Cider making party with your friends or make batches as gifts for your friends. Take photos of the beautiful process and share with the Water Well. Salute to your wellness!